We Are Hiring! Job Details
Our team is looking for people with passion to fill the following positions:
Senior Civil Engineer
Senior Project Planner
Engineer Senior Project Transmittal Interface Controller (D/C)
Senior Process Engineer
Senior Piping Engineer
Senior Mechanical Engineer
Senior Electrical Engineer
Senior Instrumentation Engineer Cathodic Protection Engineer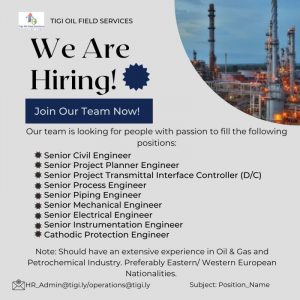 Qualifications / Experience Required
Should have an extensive experience in Oil & Gas and Petrochemical Industry. Preferably Eastern/ Western European Nationalities.
Division
Expiration Date
September 30, 2022